Proud to announce the Launching of "Friday Featured Biz!"
I am thrilled to be kicking off my Friday Featured Biz with Lindsay of Happy Housewife Designs!! She designed my awesome new blog with professionalism, dedication, and patience!! And for a price that the "big guys" couldn't touch!!
Without further ado, here is what Lindsay has to say about her business, Happy Housewife Designs, and about the importance of supporting small business owners....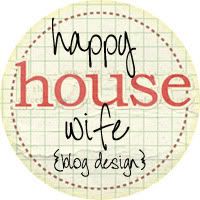 "When Lesa told me that she wanted to feature me on her blog I was so flattered. I mean I knew she loved her design but enough to do a whole post on me! Wow!
Like a lot of moms I started my business because I wanted to do something that not only helped with the family income but also gave me something that I loved to do. I told myself when I started out that I would "try it" and see where it goes. After a year of learning and several nights of wanting to throw my computer through the window I got there. I was a designer. I had taken the time which was usually during naps and once everyone was in bed asleep to learn, practice, and make design after design on my own personal blog. Then I opened up my business and have been so happy to be able to help other mom bloggers out by giving them a design they love at an affordable price.
I love working with other bloggers. Because you run into so many other moms that are in some kind of business and there are so many great products out there. I think its great that we have been given an outlet to let us do what we love from our home and while we raise our kids. I love being contacted by other mom bloggers who have great products that they believe in and want to share. I just bought an IPhone cover from one of these mom shops and it saved my phones life the other day when I dropped it (don't tell the hubby). But that would never be something that I could find in a regular store. I know they have cases but this case was cute and at a great price.
So come stop by my design shop and maybe even enter a giveaway (we have a HUGE one coming in July). I promise you will end up with a design you love and maybe even find a new blogger BFF like I have found my in great friend Lesa!"
Lindsay and I spent a lot of time talking, both on the phone, as well as via email. She took the time to answer my endless questions, and was dedicated to getting my blog exactly the way I wanted it! Better than that? I really have made a friend!
So, the next time you need a total blog make-over, or simply a tweak to your current design, please consider Lindsay for your next project!!
Thank you for reading, and for supporting the small business owner, where your business really is appreciated!!
****To have your small biz featured, please send me an email at LesaSpeaksOut@gmail.com, with the subject line "Featured Biz" and let me know! The "rules" are simple...write a paragraph about your business and services/products, and another paragraph about why supporting small business is important to you, and how you personally support small business either online or in your community.
That's it. My goal is to get everyone involved in supporting each other and keep our businesses growing!! And hey! If you make a friend through the process, let me know!!****
Thanks for reading, and for supporting Lindsay in her dream of staying home to care for her son while running her own business!!
Until Next Time....